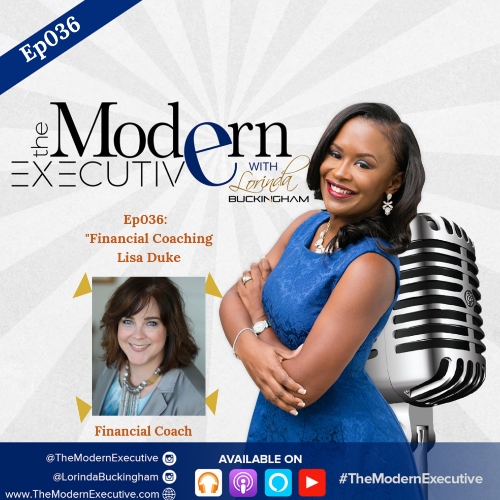 Hello Modern Executive tribe! 
Join The Modern Executive Podcast with host Lorinda Buckingham, and interview with Special Guest, Lisa Duke of Lisa Duke Coaching where she serves as an expert Financial Coach. Lisa helps individuals get it right when it comes to finances. She was amazing on the show and shared amazing principles that would help individuals get their finances in order. You can connect with Lisa on https://lisaduke.net to learn more about her programs. 
If you would like to see the replay of the LIVE broadcast, you can SUBSCRIBE AND WATCH on the Lorinda Buckingham YouTube channel, CLICK HERE--> http://bit.ly/2CA50Yc 
To donate to this podcast to help continue to share the message of leadership empowerment with other, any donation of any size, click 
here--> https://patron.podbean.com/themodernexecutive 
Download your copy of The Modern Executive Success Blueprint 1.0: 6 Success Principles To Create, Transform, and Grow Your Professional Success, which includes series such as Conquering Fear, Discovering Your Own Story, Turning Your Pain Into Profits and More! click here --> http://bit.ly/modernexecutiveblueprint1
Join The Modern Executive Facebook group https://www.facebook.com/groups/359101118011881/
Subscribe on YouTube: Click here http://bit.ly/2CA50Yc
Again, thank you for tuning into The Modern Executive Podcast with Lorinda Buckingham! 
SUBSCRIBE TODAY on iTunes, Google Play, Podbean, and Alexa (Amazon)! 
iTunes: CLICK HERE -->  http://apple.co/2rKEn9K
Google Play: CLICK HERE --> http://bit.ly/2GmiTrl
Podbean: CLICK HERE --> http://bit.ly/2FmgHib
Until next time, here's to your Freedom, Balance, and Faith for success!