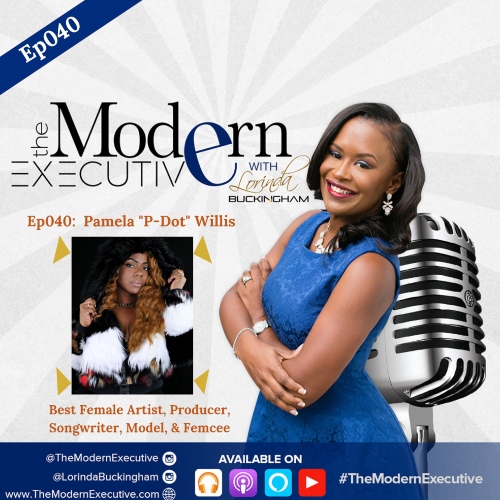 Hello Modern Executive Tribe! 
Whoo hoo!!! **HAPPY 40TH EPISODE!!!** 
We were honored to share our 40th episode with Best Female Artist, Pamela "P-Dot" Willis. Download and listen today! 
Did you know that you need to have leadership in the music and entertainment industry? The same principles apply! 
Join us on The Modern Executive Podcast with host, Lorinda Buckingham, with Pamela "P-Dot" Willis, Top Selling Femcee Artist, Producer, and Model, to talk about life, leadership, and the music industry.
P-Dot shares about how most of the music industry is business and what leadership roles she had to take on to become the brand that she is today. P-Dot is a top-selling femcee artist who is building a well-respected brand, and is the recent Best Female Artist for the Underground Hip Hop Awards show. Her list of accomplishments goes on. Therefore, this conversation about leadership, business, and life is one that you do not want to miss. 
Connect with P-Dot on Facebook and Instagram @pdotmusic, for bookings contact dgirlpdot@gmail.com. Grab her new Single Confessions on Spotify. To learn more about P-Dot music, upcoming events and more, be sure to connect with her for all of the upcoming events!
Lorinda Buckingham is a Leadership & Life Success Coach who helps leaders ditch the overwhelm to become more productive, effective, and profitable in their organizations. Lorinda is Certified by The John Maxwell Team.
SUBSCRIBE to get FREE business leadership tips, blogs, newsletter to help YOU become the leader that you desire to be:
Blog & Newsletter: http://eepurl.com/bX5KED
BE THE FIRST TO KNOW WHEN WE AIR OUR BROADCASTS & CATCH ON THE REPLAY:
iTunes: http://apple.co/2rKEn9K
Google Play: http://bit.ly/2GmiTrl
Podbean: http://bit.ly/2FmgHib
YouTube: http://bit.ly/2tCs4O2
Buy your copy of The Modern Executive Audio Series here: http://bit.ly/modernexecutiveblueprint1
Here's to your freedom, balance and faith for success!
Take care, 
Lorinda Buckingham
Modern Empowerment